2009 Majestic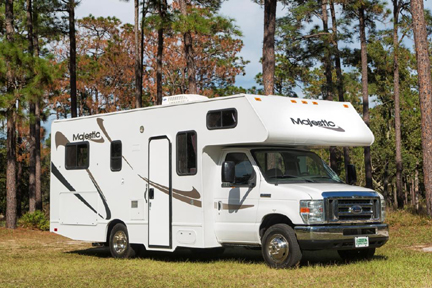 For this year's travel (2015) we decided to get a smaller motorhome and we opted for 1 under 24 feet which is equal to 7.2 m, about the same size as our European Carthago, except the American one is 700 kg heavier and uses twice as much fuel, of course it is petrol and the European one was diesel.
We search the Internet for something that would be suitable as we are only going to be using it for two years we decided that there was a upper limit of about $US25,000, it did not take as long to discover that the best value was an ex-rental with about 130,000 miles on the clock and we decided to go with one from Cruise America as we are buying it site unseen here is some of the information we received which allowed us to make the purchase. They say…..
Since you live far enough away that you'd have to hop on a plane to pick up your RV, we'll reimburse your airfare up to $500 long as you are arriving to Phoenix from a city in the U.S. Reimbursement is done in U.S. funds, by a company check about two weeks after you take possession. Here's a link that explains more: Fly and Buy Program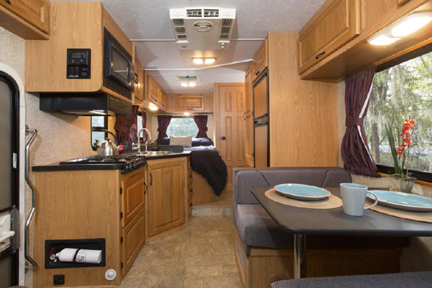 Here are our experiences with the RV & The Coy
Please send me a copy of your and Mrs McLellan flight itineraries so I can get you qualified for our Fly and Buy Program.
We refurbish our motor homes. This includes removal of rental graphics, and re-painting. Engine oil, and transmission fluid are changed on all the coaches we sell. Gear oil is checked and changed if needed. We do a drivetrain inspection. Tires and brake linings are changed as needed. Generators are inspected, and have their oil and air filters changed. Interiors are gone over and look great. In addition, we stand behind our product with a 12 month / 12,000 mile drive train warranty at no extra cost. Our corporate hub is in Phoenix, where we have our largest selection and where we do our refurbishing.
Here is some information about our 12,000 mile or 12 month drivetrain warranty.
We offer two optional and additional cost extended warranties. We offer an Extended Coach Warranty which provides coverage for the "House" portion of the RV for 4 years without any mileage restrictions. On your coach this is priced at $1806.
We also offer a 5 year –or- 100,000 mile extended drive train warranty (Service Agreement). Learn more about it here: Extended Powertrain Warranty This is priced at $1650.00
It's a very rare occasion that one of my customers who flies into Phoenix decides not to take one of our motor homes. It's happened to me only once in the 5 plus years I've been here. But, if for some reason you decided not to take the motor home we would refund your wire transfer in the form of a company check. This can be done immediately as long as I have an officer of the company to sign it.
Another option is to come here, inspect the motor home and THEN send off for the wire transfer. As you know, it could take about 3 days to go through.
I can understand how you feel. Over the years we've sold a lot of motor homes to people who've never seen them before, and I'm sure they've all had the same thoughts; felt the same as you. But it's been my experience during my time at Cruise America, that they've been pleased with the product while exploring North America.