Canon EOS D-5D 12.8 Megapixel Interchangeable lens SLR Digital Camera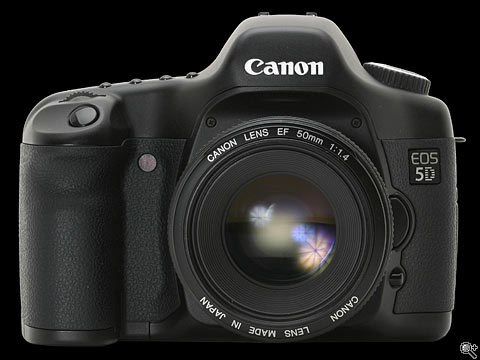 EOS 5D states that it 'defines (a) new D-SLR category', this particular statement is clearly pretty accurate.
The EOS 5D is unlike any previous digital SLR in that it combines a full-frame (35 mm sized) high resolution sensor (12.8 megapixels) with a relatively compact body (slightly larger than the EOS 20D.
The EOS 5D is aimed to slot in between the EOS 20D and the EOS-1D professional digital SLR's, an important difference when compared to the latter is that the EOS 5D doesn't have any environmental seals.
While Canon don't specifically refer to the EOS 5D as a 'professional' digital SLR it will have obvious appeal to professionals who want a high quality digital SLR in a body lighter than the EOS-1D.
It is for this reason that I moved to this camera, and quite frankly it is good to be back to 100mm being 100mm and not 160mm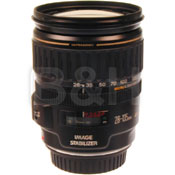 Zoom Wide Angle-Telephoto EF 28-135mm f/3.5-5.6 IS Image Stabilizer USM Autofocus Lens
A compact, lightweight standard zoom lens with superior optical performance plus a built-in Image Stabilizer. The IS system reduces the possibility of blurred photographs caused by camera shake, enabling handheld photography in comparatively dim light without a flash or tripod. The IS system is composed of a pair of gyro sensors to detect vertical and horizontal motion and a microprocessor that compensates for it by shifting special lens elements in parallel with the perceived movement. At the wideangle end of the zoom range, the equivalent shutter speed gain is approximately 1.5 stops while at the telephoto end, it is approximately 2 stops. In addition, the lens has a USM drive mechanism for optimum AF performance, and the pulse control diaphragm (EMD) ensures precise aperture control.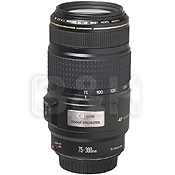 Zoom Telephoto EF 75-300mm f/4.0-5.6 EF IS Image Stabilizer USM Autofocus Lens
The world's first interchangeable lens with a built-in image Stabilizer (IS), the new Canon EF 75-300mm f/4-5.6 IS USM lens - designed exclusively for Canon EOS cameras, dramatically reduces the chance of a blurred photograph due to camera motion ("shake") especially when shooting at long focal lengths with slow shutter speed. Controlled by a built-in 16-bit microcomputer, a series of gyro sensors and micro-motors instantly shift one of the lens groups to compensate for inadvertent camera motion. A very practical benefit of the IS system is a reduction in the old "focal length = shutter speed" rule by two full stops. Now you can expect sharp pictures at 200 mm with a shutter speed of only 1/60th second!