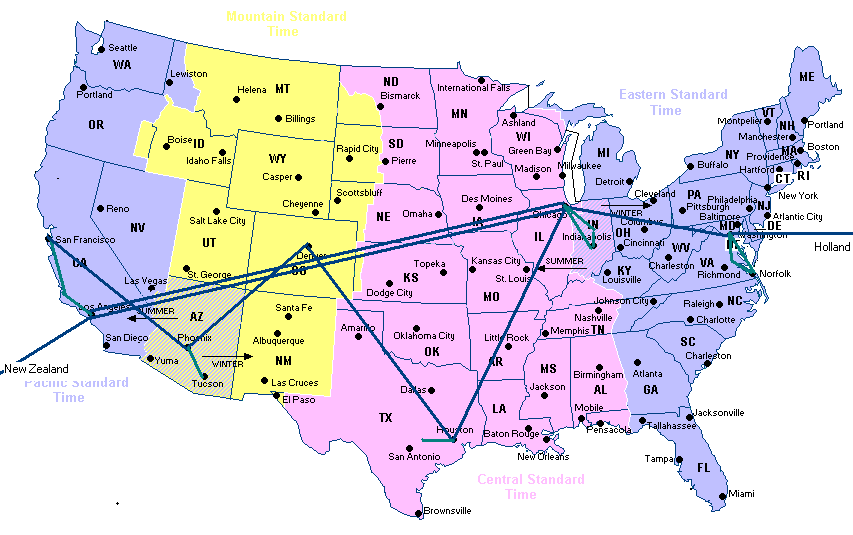 Blue lines = Air Green = Road
Purpose
On Labour Day 1971, I arrived in America on a 21 day 14 City information gathering trip which end up changing the writer and professional photography in New Zealand for ever.
In the very early Seventies things were rather dull in the photographic scene in New Zealand and as I had been on the Professional Photographers Association executive for many years I had reached the stage of knowing what was happening throughout the country and was totally unimpressed with any future growth than I could see in the current direction my peers were heading.
I decided that, before, I would get out of photography, to visit the largest country in the world with people with money to spend, the United States of America, and see what was happening there in photography and see if any of the ideas could be imported back to New Zealand.
There was one word for what I've learned, COLOUR. I came back and switched my studio to Colour almost overnight and my customers could not get enough. I then started my two to three trips per year to America travelling and the learning and bringing in two-to-three Americans speakers a year to teach New Zealand photographers the finer points of selling, good photography and every thing else in between.
I started up what became the largest wedding and portrait colour Lab in New Zealand and sold that finally some 8 years ago. It is still operational, but in my eyes not effectively.
I've tried many things in the 8 years and it boils down to the fact that currently I am bored and currently I note that wedding and portrait photography in New Zealand is at a worse state than it was in 1971.
So almost 30 years after my first visit to I'm returning to travel across America visiting with some of the leading minds and experts at this craft to again see if I can find any ideas that can be brought back to New Zealand.
This time it is not for survival like it was in 1971 but to put something back into the craft and that is been extremely generous to the writer.
The Questions

This is a list of the questions I will be asking at the 15 plus studios I visit across the States
I would like to see what you are doing or planning for digital and how you feel it will affect your business

I would like to see where you are ahead of the rest of the industry . (everyone has at least one great strength)

I would be interested in successful marketing strategies you currently have in place & how you get your business

I would be interested in how you hope to grow you business, either in size or solely in profit

I would be interested in what you would do if there was no senior business

I would be interested in what you feel is your largest problem. (everyone has problems and the largest may be insignificant, but it is still the largest problem by definition)

The Tour
....Starts on the 3rd August when I leave NZ with the writer flying direct to Chicago (where I arrive on the same day) for the Professional Photographers of America National Convention where I would hope to update myself with the latest in Digital technology, what is happening, the attitudes of the speakers, the offerings in the trade shows, and the equipment on offer in this medium.
I will be interested in what the Lab's have on show and how they are coping with this major change in technology and how the are handling the Ink Jet "do it your self" thinking.
I will be interested in how the Ink Jet coys are promoting the "Do it your self thinking"
Finally I will be returning to LA to start my tour across the country calling on studios seeing how they are thinking about changes to this new technology. I will be talking to some Students about these changes and seeing how their thinking equates with the thinking of working Professionals.
.......on the 3rd of September I to fly to Amsterdam.
There I will spend a few days with friends before I fly on the 8th to New Delhi for 23 days of photography in Rajasthan flying out to Singapore on the 2nd October. (See Map of tour of Rajasthan)
I will return home on the 8th October when it will be a matter of analyzing what I have learnt and how it can be applied to New Zealand photography and of course looking at my images from Rajasthan to see if that part of the trip was worthwhile!
......And possibly for a rest!